Click
here
to access POEMS V1.0
FUND FINDER
Click here for advanced search functions

FUND COMPARISON
Click here for advanced search functions

Allows You to Earn Returns while Waiting for Investment Opportunities
Why settle for the banks' deposit rates?

Understand what exactly is the banks' S$50,000 per depositor "deposit insurance scheme". DECIDE for yourself if it is worth your sacrifice on returns when it does not insure you against inflation and rising prices.

Your Phillip Cash Management Account (for stocks, Unit Trust & other investments) or Phillip Unit Trust Cash Management Account (for Unit Trust only) allows you the option to enable excess cash in your account to be automatically parked into Phillip Money Market Fund (PMMF) at 0% sales charge. This excess fund facility facilitates the settlements of your investments (PMMF holdings are automatically used to pay any outstanding investments).
Managed by PhillipCapital's own asset management arm - Phillip Capital Management (S) Ltd. Phillip Money Market Fund is Singapore's largest money market fund at about S$800 million in assets with over a decade of excellent track records! The PMMF's performance since April 2001 is as follows: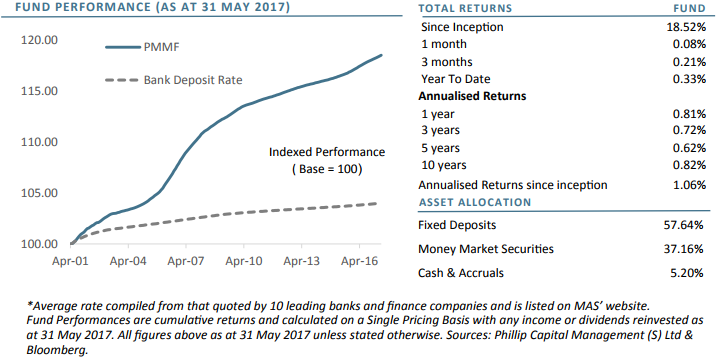 Note: Existing Cash Trading Account holders can also perform an online account conversion to a Phillip Cash Management Account. Existing investors with the older Unit Trust Investment Account (account numbers starting with 09*****) may complete and return this form for a FREE upgrade to Phillip Unit Trust Cash Management Account (for unit trust only). Click here for the business reply envelope.

If you would like to enable the account for local stocks and other investment products, simply bring along your IC to any of our Phillip Investor Centres and your Phillip Unit Trust Cash Management Account can be further converted into a Phillip Cash Management Account.
Learn about our latest promotions.
---
Enjoy the following conveniences with your Cash Management Account:-
1. Hassle-free Trade Settlement
Enjoy a ledger-based account that has the ability to hold money in the account at anytime. You will enjoy automatic deduction or crediting for trades done in Unit Trusts and more, without having to worry about the possible delays in payment and receiving of the proceeds due to various reasons. Trade purchases will be settled as long as you have sufficient funds in the account; this applies to the crediting of the proceeds after a sale is done. There are no changes in the way you perform your trades and no minimum balance is required to be maintained in the trading account.
2. Multi Currency Option
You have the option of maintaining foreign currency balances, such as USD, HKD, MYR, JPY, AUD, GBP, EUR and CAD ledgers in your account for ease of investing and efficient cash management of your foreign currency denominated investments. Settlement can either be in the traded currency or in SGD. Note: Do ensure sufficient funds in the chosen settlement currency to avoid incurring interest on debit balances.
Click here
for more details.
3. Various Payment Methods
We offer 4 types of payment methods, i.e. cheque/ cash, Electronic Payment for Shares (EPS) - Lump Sum Payment via ATMs/internet banking, internet bill payment and TT for your convenience.
Click here
to find out more.
4. Online Transactional Records
Transactional records are archived up to 12 months (year to date) online. You can easily access all settled transactional records and checks your balances via POEMS. You need not have to search through your bank statements and try to reconcile the trades done against the amount received.

Paper statements will be sent to all clients to supplement the online transactional records. If you wish to opt-in to E-statements
click here
to find out more.
Click here
to find out more about Phillip Cash Management Account.


Click here
to open an account now.